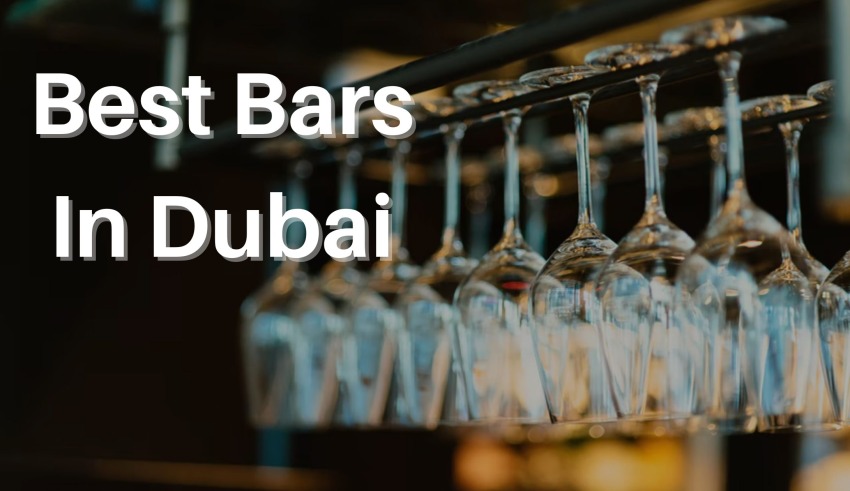 There is a reason why Dubai is designated as the city of outstanding wealth. The whole vibe of the city reflects in its hotels, restaurants, bars, and pubs. Nothing is basic of bars in dubai. Every place has a story to tell, a unique décor to make you feel comfortable, and exceptional city views to make your day memorable. From the best beach bars in Dubai to the best pubs and dining lounges, Dubai is full of beautiful surprises.
Here, you'll find a plenitude of options to sip sparkling spritzes, a crisp glass of wine, or a uniquely blended cocktail. Not just this, the ambiance of every place is so ravishing that you cannot help yourself from dressing up for it. If you are looking to spend a day at the best bars in Dubai, then we have the right list for you.
Grab a friend or a partner and select the most suitable bars in Dubai from the list given below. We guarantee that you'll come back to this list to find a bar for your next night out.
Here is the list of the 10 best Bars in Dubai to enjoy your nights in 2022.
Coya is one of the signature bars and fine dining places in Dubai. It is well known for its heritage and hospitality. Expect incredible Peruvian-inspired cocktails that'll please your palate. Pair it up with some lavish seafood dishes. Even the ambiance here is colorful, decorated with handicraft furniture and historic Peruvian art. Its interior design makes it one of the classic bars in Dubai.
This Peruvian-themed bar and lounge are divided into three sections – a dining room, a bar-only section, and a Pisco lounge. So, it caters to everyone at the same time without disturbing the vibe. Visit this place for the playful Popcorn Sour which is made with popcorn infused with Macallan and Laphroaig.
You'll also love the fish taco filled with fresh salmon and snapper. The seasonal lobster with chimichurri sauce is something you cannot miss. And to top it all, they have started live entertainment, which will make your day even more special and memorable. So, do visit Coya, one of the best bars in Dubai.
---
Siddharta Lounge is an exquisite alfresco destination for all the foodies and cocktail lovers. It is one of the best bars in Dubai that caters to a wide variety of crowds. Perched on the rooftop of the magnificent Hotel Grosvenor House, this Asian-inspired lounge is the best place to enjoy the pleasant winters with your friends and family.
The lounge is lined with a dreamy open-roof pool where you can sit and enjoy your cocktails. The menu of this place is unique and offers a mouthwatering fusion of Mediterranean – Asian cuisine. From zesty tartars and tapas to heavenly plates of pasta and grilled meats, you'll find some impressive dishes.
One of their specialties is the mini crab cake burger, which goes well with their cocktails. Don't forget to order the Royal Gallery with crushed berries, Taittinger Brut, and the Frangelico Hazelnut liquor. Siddharta Lounge is truly one of a kind bar in Dubai that you cannot miss visiting.
---
As the name suggests, Stereo Arcade is a mix of bar, club, and arcade, making it the ultimate nightlife destination in Dubai. Located in the Hilton DoubleTree, this club has a quirky vibe perfect for the young party crowd. The red-bricked walls are beautifully paired with arcade machines to entertain the visitors.
Neon lights, retro drink tables, and bright bar signs take you back to the 80s era. The music is very techno and synth-based that'll make you dance all night. This is the best bar in Dubai to find a long-lasting beer tap. But if you want something more than a beer, you can go for their signature cocktails with unique flavors like Cookies and Cream with Sailor Jerry Rum and Cacao liquor with crushed Oreos.
The food menu offers pizza, sliders, and nachos. You can also visit the Maine Oyster Bar and Grill present right next to the Stereo Arcade in the hotel for a subtle dinner.
---
White is one of the best bars in Dubai with an uninterrupted view of the ever-so-tall Burj Khalifa and the beautiful city skyline. The tech club offers a variety of entertainment shows and artistic talents. It is truly magical to see talented artists from all across the world performing amazing acts that can only be enjoyed in real-time.
Being one of the enormous clubs and bars in Dubai, White provides an unforgettable nightlife experience to all its visitors. Besides the groovy ambiance that'll keep you up on your toes all night, the cocktails at White are to die for. From amazing international DJ acts, spectacular talent shows and techno hyped music, this place provides a completely unique experience of Dubai nightlife.
Make sure to book your table in advance as this place always goes full especially during the weekends. Even though it is often super crowded, the service is fast and attentive. This is exactly what differentiates White from other bars in Dubai. If you are looking to experience a once-in-a-lifetime night madness in Dubai then do check out White. You'll not be disappointed at all.
---
Another iconic beach bar in Dubai is 360 with some energetic vibes and a breathtaking view of the ocean. Gaze around to spot Burj al Arab, one of the most beautiful sites visible from the bar. While you are here, don't miss the light show near Burj al Arab that'll make your trip even more memorable. Located near the wonderful Jumeirah Beach Hotel, this place provides a great adventure for everyone.
The extensive range of cocktails with exquisite flavors will keep you bright and cheerful throughout the night. Try their Cappucino Orange Martini, and the signature Captain Jack Sparrow with spiced rum chocolate bitters. Their service and presentation are impeccable and Instagram-worthy. Besides the view and the cocktails, you'll also find some delicious pan-Asian dishes to please your palate.
This place is a paradise for seafood lovers offering Australian lamb cutlet, chicken skewers, Jumbo prawns, Norwegian Salmon, and much more. Wish to cut down your appetite? Order the small platters of nacho, spring rolls, chicken gyoza, and more. There is something for every person at this bar.
---
Get off of your shoes and sandals to feel the warm sand beneath your feet in this one-of-a-kind beach bar in Dubai. The Jetty Lounge is a place to chill and relax while you enjoy the sunny weather and the ocean waves. The beachfront bar also overlooks some of the stunning sunsets in Dubai making it a perfect romantic spot for couples. It is the perfect getaway from the tall skyscrapers and rooftop bars.
Located at the One and Only Royal Mirage Hotel, this lounge allows you to soak in the Palm island views with some lip-smacking cocktails. Their white comfy couches and purple-gold lights create an unforgettable vibe.
It is the best place to catch up with your friends and family while enjoying a lazy evening right next to the ocean. Order amazing food with your ice-cold glass of wine and unfurl your stress with the uplifting music and soft ocean waves. Once you visit this place, you'll come back again and again to enjoy the view and the food.
---
Next on the list is one of the cheapest bars in Dubai. Not just that, it is also one of the busiest bars in Dubai. A place to experience the city parties and vibe with people who share a similar taste in music and dance.
Unlike many other fine dining and sophisticated bar lounges in Dubai, Barasti is a place to let loose and forget the finely crafted cocktail. This is a place to enjoy budget-friendly drinks with an incredible party crowd from all across the world. Your trip to Dubai cannot be complete without visiting Barsati.
Located in Dubai Marina, this place follows an indoor-outdoor bar layout. It promises all its visitors a low-key yet fun night to remember. On a busy night, you can see people casually dressed up with their flip-flops partying around. Whether you are young, middle-aged, or old, this place doesn't see any age.
In fact, it welcomes everyone who enjoys tequila shots and techno music. The best part is that it is the most happening yet the cheapest bar in Dubai. Order a platter of all your favorite food including pizza, burgers, fish, and ships to compliment your drink and make new friends while enjoying the party vibe.
---
Located in the popular H Hotel, Dubai, this rooftop bar offers a 360 view of the glamorous city of Dubai. Known for some of its high-paying clientele and smartly dressed crowd, this place is perfect to spend a wonderful evening with your loved ones.
The cocktail range is very unique offering drinks like the Lucky Victims with Hendrick's Gin and elderflower. Its signature cocktail Limonetta is served with limoncello, vanilla, Midori, prosecco, and fresh lime.
The food menu is also out of the world serving Asian-inspired dishes with more emphasis on seafood. Some of the delicious dishes served here include yellowfin tuna sashimi with black cod. The meat first dinners with wagyu burgers are a must to try
. The service is incredible with engaging staff members who guide their guests to decide the best beverage and food for their evening. Come here to take a look at the breathtaking view of the city with some satisfying dishes and cocktails.
Besides the 40 Kong, H Hotel also offers some exclusive bars, pubs, and fine dining options with different cuisines including Arabic, Lebanese, Mediterranean, Asian and more. They also have a poolside bar to host amazing private parties and get together. So, visit the website and pick the best bars in Dubai for an exhilarating experience.
---
Located right on the rooftop of Jumeirah Four Seasons, this bright and beautiful luxe lounge will take you to a new world of South France. As you breeze into this new season, experience the traditional Dubai theme with simple creations.
Mercury Lounge overlooks the beauty of Mount Etna along with the bays of old Syracuse that'll take you into an enchanted wanderlust world of nature and fresh air. Besides this, you can enjoy the unobstructed view of the magnificent Burj Khalifa and the Arabian Gulf lined with the city skyline.
The Sicilian interior décor of this lounge makes this place Insta-worthy from the moment you arrive. Book the exclusive majlises for a private dining experience. The majlises are separate sitting places that come with personal staff to attend to all your needs.
They are nothing but private dining areas for people who wish to stay away from the crowd. Order a combination of classic traditional Sicilian cuisine with handcrafted cocktails to match the overall culinary flair and ambiance of the place.
Don't shy away to try their signature cocktails including the Cosmo of Rose made from Ketel one infused with rose elderflower. The Toulouse Julep is a delicious blend of Ciroc, hazelnut syrup, and Amaretto di Saronno. Compliment your drinks with a grilled seafood platter, a cheese plate, and a beetroot tartare. This place is excellent to impress a date so book a table for your loved one and make your evening extra special with the Mercury Lounge.
---
This spectacular bar is located in the Jumeirah Burj Al Arab providing a trendy and cool ambiance to its clientele. Just like its name, this place is made with gold interiors to make it look edgy and unique.
Here the code is to dress to impress, wear smart casual attire to blend in with the crowd, and enjoy the delicacies of the Burj Al Arab. This place is more popular for its artfully crafted cocktails and beers along with small seafood platters.
One of the best seller cocktails in this bar is the Scent of the Souk made from dried apricots and gin. This drink is inspired by the fragrant ambiance of Dubai's popular souks.
Besides this, the gilded bar also offers high-end cocktails made from rich ingredients like blackened truffle oil and foie gras. Pair your drink with a fancy finger food platter of crispy shell crabs. Bring your friends, family, or a special one to impress them with the interior and amazing cuisine served by the top-quality staff.
Conclusion
It is always fun to visit the most prestigious and popular places in Dubai. This city is full of top-class bars, pubs, and fine dining options. With extremely lavish interiors, impeccable staff, and quality service, Dubai is the one-stop shop for luxury as well as budget-friendly bars. Some of these places overlook breathtaking views making it a mandatory stop for anyone visiting Dubai.
The above list provides an overview of the best bars in Dubai. These places are perfect to enjoy the scenery, delicious cocktails, and soul-warming meals. From the best beach bars, in Dubai to the cheapest bars in Dubai, this list will help you find the best of the best.
So, without further ado, go through the list and book a table to celebrate a special occasion or just enjoy a pleasant evening with your friends, family, or a special one. Revisit the list to pick the best bar/ fine dining lounge for your next date night or a day out with friends and family.