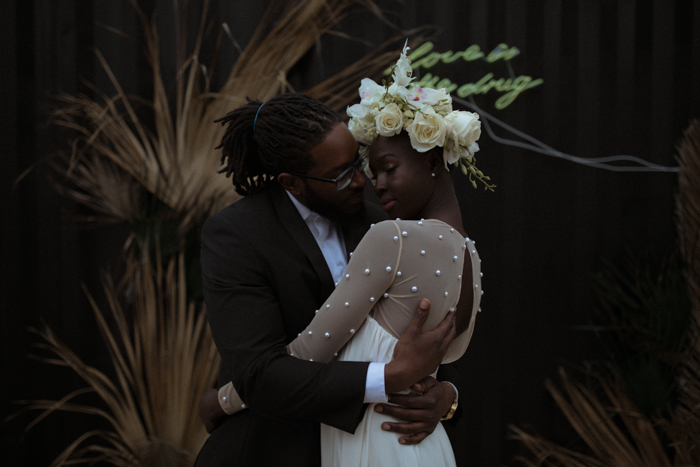 The Junebug-approved wedding vendors have seen their fair share of weddings—every style, every theme, every location. With all that experience they've picked up some unique wedding planning tips you won't find just anywhere. Until today. We're giving you the inside scoop from inside the wedding industry. Before jumping head first into planning your big day, check out these eight unique planning tips from our trusted wedding industry pros. 
1. Kickstart Your Planning Process With A Strong Foundation
While you're enjoying your engagement season, odds are you're ready to jump into planning your wedding day. But, there's a few things you should do before digging up inspiration on Pinterest—trust us! "Before you even start booking vendors, spend time preparing and researching. Take notes, brainstorm, do a mood board. Everything will feel easier if you come in with a strong foundation" says Teri B Photography. 
A mood board and a finalized budget will be important when making decisions, but Valentina from The Stars Inside says the best way to kickstart your wedding planning process is talking priorities. She says to start by spending some time together to openly discuss your priorities and stress points. Make notes about what is most meaningful to you, what you've loved about attending other weddings in the past, and the overall feel you want your wedding day to have. Staying true to your values and that big-picture story will guide your decisions and help you experience your planning journey and the day itself in a more mindful way. 
2. Start By Booking Things You
Need
Every couple's budget will look a little different. No matter the size of your budget, there's one tip that'll make sure you never go over that magic number. Weddings By Sara Jane says that 
"to stay on budget, make sure you book the things you need first. Then once you know what the essentials cost, you can add in the fun extras from your wishlist." 
3. Hire Wedding Vendors That'll Allow You To Enjoy Your Big Day 
One of the most important decisions you'll make at the beginning of your planning process is your choice of vendors. Your team should be packed with people you trust to take the reins. These should be people that'll make for a stress free wedding season, but also people you'll work well with. Photographer Empiria Studios says it's important to "book vendors that inspire, support, and understand you! Just because someone has experience doesn't mean they will be the right fit for you." 
Junebug photographer Elvira Kalviste's advice is similar and especially important when choosing your photographer. They suggest that you should hire vendors that'll allow you to enjoy yourselves when your big day comes around! When it comes to capturing photos, the last thing you want is to feel like you are on a set or a photo shoot all day long. There are some amazing vendors out there that'll set the stage for you to enjoy your day, capturing all the joy without interrupting you or your guests every minute.
4. Hire A Photographer You Vibe With
Scrolling through Instagram has probably given you a good idea as to what style of photography you'll want for your wedding day. And while it's important to look for a photographer that matches that style, there are other important things to remember when going through the hiring process. 
When it comes to hiring a photographer, Cait Fletcher Photography says it's important to "choose a person whose work you love, but also who you vibe really well with. Photographers are the people you'll spend the most time with throughout the day and if you don't click, your photos won't either. When hiring clients, I invest a lot of time in setting up in-person meetings just to get to know my couple and see if we're a good fit. When you vibe with your photographer, communication and comfort come easy and naturally. It also builds a sense of trust to try some pretty out-of-the-box portraits during the day too." 
4. Take Breaks During Your Planning Season And On Your Wedding Day
The top tip from Junebug wedding planner, Benessamy Weddings, is not to get too obsessed with wedding planning. They suggest taking regular breaks from your plans to spend time with each other and enjoy your engagement season. 
However, this isn't something you should just do during the planning phase. The number one thing Teri B Photography's clients say is how fast it all goes—we hear the same thing often. That's why taking breaks on your wedding day is just as important. 
Kelsey Shea Photography suggests building in actual time to be alone, just the two of you! The heart of every wedding is your bond and the love you share, but so many couples hardly spend time together in a meaningful way on their wedding day. 
5. Fit Family Portraits Into Your Wedding Day Timeline 
Planning a wedding can quickly become an overwhelming task. And Junebug photographer Zac Wolf wants to remind you the importance of prioritizing your time at the wedding and with your guests. Do what you can to set yourselves up to have the time to take it all in." That's why it's crucial to have a wedding day timeline set for both the planning period and your wedding day. But what exactly should your wedding day timeline include? 
When it comes to photos, specifically family photos, Junebug member Vanessa Lain Photography suggests talking with your photographer to see what can fit comfortably in a timeframe that won't overwhelm you. Posing for portraits can be draining! And you want to leave time for the fun stuff. So make sure you schedule in time for family photos as well, but don't over do it—it's your day after all. 
6. Plan Around The Sun 
Sure your ceremony decor is important, but don't forget the most important detail—the sun. Elle Studios says that it's important to know where the sun sets in relation to your ceremony spot. Then, plan around it. One half of the couple in full sun and the other in the shade isn't just hard for your photography, it also means one of you will be squinting. 
Junebug Tip
Finding your dream venue will set the stage for everything to come. That's why it's important to ask all the right questions. Make sure to add this question about the sun to the list of questions you'll ask wedding venues before booking. 
7. Step Outside Of The Traditional Wedding Planning Box 
You're not bound to a strict box when it comes to planning the wedding of your dreams, and our Junebug wedding vendors agree. Cedar Lane Weddings' top tip is to "remember to create an authentic and deeply meaningful celebration. A day where you begin an amazing adventure together. Don't get caught up in the performance or production of a wedding day." 
When it comes to building an authentic celebration, you can't be afraid to think outside the box when picking the location, decor, or outfits, says Stori Photos. She suggests that you center it all around what inspires each of you, and know it's totally okay if what you want to do is something that has never been done before! 
8. Plan A Day That's Authentically You 
Last but certainly not least, plan a day that authentically celebrates your unique love. Luigi Reccia understands that it may be important for you to be open to suggestions from your family and friends. But at the end of the day, Jade Maguire Photography wants to remind couples to plan your day for you, not for your guests. 
Brittany Hamann Photography always reminds clients to do whatever makes them happy. In ten years, you'll look back on your wedding day and remember it fondly, but it won't hold as much meaning to your guests. So don't let the opinions of others impact your day. It's your day.
Looking for More Unique Wedding Planning Tips From Junebug Wedding Vendors? 
We asked our Junebug members for unique wedding planning tips, and wow did they deliver. If you're just starting your wedding planning and searching for a team of vendors as knowledgeable as these wedding professionals, you're in luck. You're just one click away from some of the top vendors from around the world.