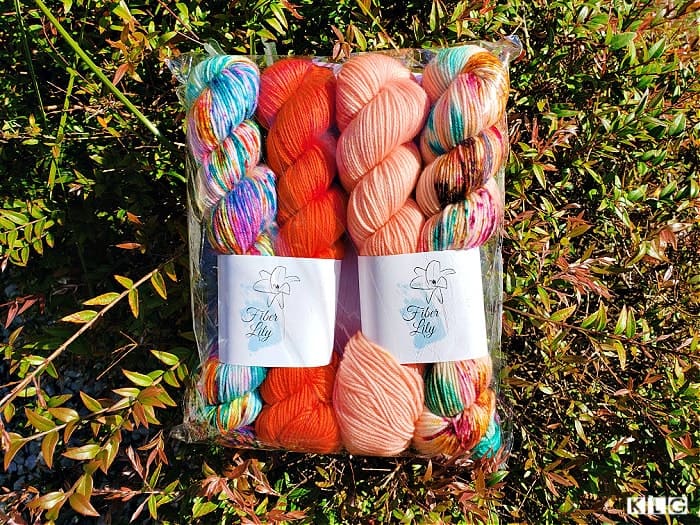 Knitting is great, but it's hard to find the best yarn for knit.
There are so many types of yarns out there! I have eight quality yarns for knitting to make your decision easier.
My Quick Recommendations
The links above take you to Amazon and Lion Brand.
Wondering what kinds of yarn are best? Read my guide for more information.
I reviewed and updated this post on January 8, 2022.
Table Of Contents
What Makes The Best Yarn To Start Knitting With
Here are some key decision-making factors to consider when choosing the best brand of yarn for knitting.
What Kind Of Care Does It Need?
Can you put your knitted project in the washing machine? Can it be placed in the dryer? Some animal fiber yarns are only washed by hand.
I don't mind handwashing my knitted socks because they're small. Washing a sweater by hand is sort of time-consuming, but it'll last longer.
Superwash Merino yarn is excellent for washing your garment in a washing machine. However wool roving, (used in chunky yarn for arm knitting) usually needs handwashing.
When in doubt, read the yarn labels.
What's It Made Out Of?
Animal fibers are wool and fur from sheep, alpacas, mohair, cashmere, angora and goats.
(A popular one is merino wool yarn, a rare one is vicuña wool.) These fibers have more resilience and elasticity.
Plant fibers such as cotton, hemp, linen, and bamboo are suitable for lightweight garments. However, not all plant-based natural fibers are moisture wicking, and some don't hold their shape well.
Man-made fibers (synthetic fibers) are soft and come in many variants.
Test how the yarn feels in your hands.
Searching for cotton yarn for baby blankets? Let my article help you.
How Much Yardage?
The knitting or crochet project determines the yardage, and a bigger project takes more yarn. It is important to get the right amount of yardage before you start.
What Yarn Weight Is Best?
#4 worsted are excellent yarn weights for beginners. Other weight categories are too fiddly (like super fine yarn/crochet thread) lace weight or cumbersome (like super bulky yarn). Want something different? Use sport weight.
What's Your Budget?
Animal yarns are more expensive. Yarns from plants like cotton and artificial fibers like acrylic yarn are cheaper.
Feels Like Butta Yarn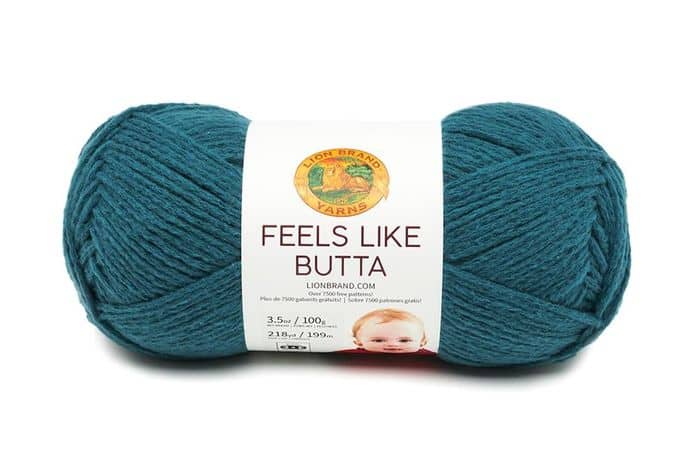 The velvety feel of chenille but is easy to knit with, unlike other chenille yarns.
The colorways are delightful. The pastels suit baby projects and baby knitwear. The bolder colors are great for adult garments like cowls, scarves, shawls, or tops.
It has a matt finish, a little drape, and is soft.
How Does It Compare?
Care – Washing machine and dryer
Fiber Content – 100% Polyester
Yardage – 218 yds (199m)
Weight – #4 Medium
Skein Weight – 3.5 oz (100g)
Gauge – 18 sts x 26 rows
Suggested Knitting Needles – U.S. 7 (4.5 mm)
Product Evolution
It also comes in a larger put-up but in fewer colors.
Pros
Good value
Doesn't spilt
The company has great shipping and customer service
Beautiful colors
Creates a nice look
Slides over a knitting needle or crochet hook
Lovely against the skin
Excellent for people sensitive to wool
Great for baby clothes and other things
Easy to knit straight from the skeins
Cons
Some customers found the sign of knots
You need an account to purchase things
Looking for the best place to purchase yarn? Here's where to find it.
Lily Sugar's Cream Super Size Solid Yarn
A plant-based fiber from 100% U.S. cotton. Crafters love it. A versatile worsted weight yarn perfect for a variety of kitchen and home décor projects! 
How Does It Compare?
Care – Machine wash and dry
Yarn Type – 100% cotton yarn
Yardage – 95 yds (86 m)
Weight – #4 – Med Worsted
Skein Weight – 2.5 oz (56.7 g)
Gauge – 4×4 Inches – 20 sts and 26 rows with a 4.5 mm (U.S. 7) knitting needle
Suggested Knitting Needles – U.S. 7 (4.5mm)
Product Evolution
Lily Sugar's Cream also comes in a cone size. The same yarn, just more.
Cone weight 14 oz/400g
Yardage 706 yards/645 meters.
Pros
These ones are soft and squishy
Great color combinations
The 2.5oz ball label includes a crochet pattern in two languages
Knitting yarn doesn't become fuzzy
Suitable for any project needs
Fast shipping in the United States
Makes great results and a fun knitting process
Cons
It sometimes has the ends tied together. If you pull too hard, it breaks
Not much stretch
Splits occasionally
Colors may run. Set in a small amount of vinegar diluted in cold water if this happens
Those who prefer wooden needles may find this catches
What is the best sock yarn? Find out in my guide.
Caron Simply Soft
Knit and crochet garments, accessories, and home decor projects with some of the best yarns from this popular brand.
How Does It Compare?
Care – Warm water, gentle cycle, and tumble drying on low heat.
Type Of Yarn – 100% acrylic fibers
Yardage – 315 yards (288 meters)
Yarn Weight – 6 oz (170g)
Skein Weight – # medium Worsted Weight
Gauge – 4×4 Inches – 18 sts and 24 rows
Suggested Needle – U.S. 8 (5mm)
Pros
Great choice for easy handling
Lustrous sheen
This yarn weight is suitable for baby projects and baby blankets
Various colors
Get a lot out of one skein
No dye lots
Cons
More expensive than some brands
Knots are a hassle
Thinner than other medium #4 yarns
Tends to split threads
Patons Classic Wool Yarn
Non-superwash wool, Classic Wool Worsted works excellent for felting and hand-knitted and crochet projects. A standard plied 100% wool yarn.
A factor of this to consider is the excellent affordability!
How Does It Compare?
Care – Hand wash, don't iron, and can dry clean
Materials – 100% wool yarns
Yardage – 210 yds
Yarn W- #4 Worsted
Skein Weight – 3.5oz (100g)
Suggested Needle – US7 (4.5mm)
Pros
Warm
Fun to knit
Suitable for any size yarn winder
Range of options for colors
Great for sweaters
Makes long-lasting garments to hold memories
Cons
Is dye lotted, get enough yarn for your project from the start. Make sure they all have the same dye lot number
A bit scratchy, some might find the textures itchy
Not super convenient cleaning
The strands feel like they have residue. This disappears after it's hand washed.
Baby Soft Yarn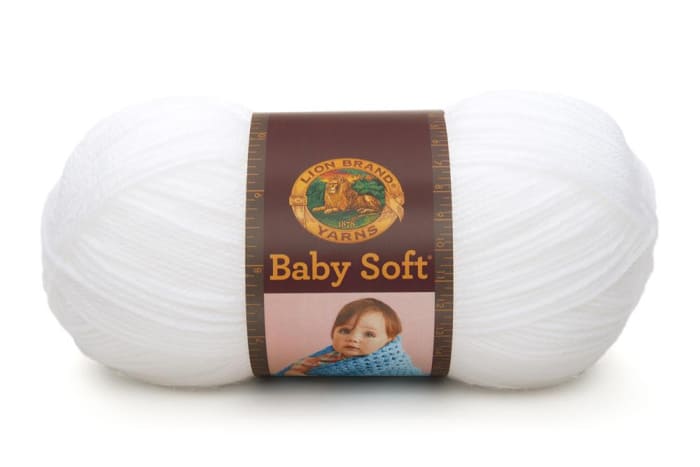 Soft acrylic blend in a generously-sized ball, suited for babies and children. (Why not make some knit or crochet hats?) The medium sportweight yarn comes in classic pastel colors and prints.
How Does It Compare?
Care – Machine wash on low temperature and tumble dry.
Made Of – Acrylic Fibers, Nylon, Rayon
Yardage – 459yds (367 in prints/pomp) / 420m (335 in prints/pomp)
Weight – #3 Light
Skein Weight – 5oz (4 in prints/pomp) / 140g (113 in prints/pomp)
Gauge – 4×4 Inches – 22 sts x 30 rows
Suggested Needle – US6 (4mm)
Pros
Soft and comfortable to knit with
An acrylic yarn that doesn't split
Excellent yardage for the price
No pilling
Knitter experts love using it
Easy machine washing
Cons
The fabric may feel stiff. Softens with washing.
Limited colors
Lion Brand seems to discontinue yarns in this line regularly
Isn't center pull
Red Heart Super Saver Yarn
This is available in 4/Medium/Aran weight. OEKO-TEX® Standard 100 certified and made in America! Almost all are 100% acrylic.
How Does It Compare?
Care – Machine wash and dry
Material – Acrylic (Flecks are 96% acrylic & 4% other)
Yardage – No-Dye-Lot Solids: 364 yds (333 m) | Prints & Multis: 236 yds (215m) | Flecks: 260 yds (238m) | Stripes: 236 yds (215 m) | Pooling: 236 yds (215 m) | Fair Isle: 236 yds (215m) | Ombre: 482 yds (440 m)
Weight – #4 Medium Worsted
Skein Weight – No-Dye-Lot Solids: 7 oz (198g) | Prints & Multis: 5 oz (141g) | Flecks & Heathers: 5 oz (141g) | Stripes: 5 oz (141 g) | Pooling: 5 oz (141 g) | Fair Isle: 5 oz (141 g) | Ombre: 10 oz (283 g)
Gauge – 4×4 inches – 17 stitches x 23 rows
Suggested Needle – 5mm
Pros
Durable
Made in the USA
Various colorways
Affordable
Looks lovely
Order more if you run out and don't worry about dye lots
Cons
Pulling from the center of the skein might incur tangles
Certain colorways feel rougher than others
Paintbox Yarns Cotton Aran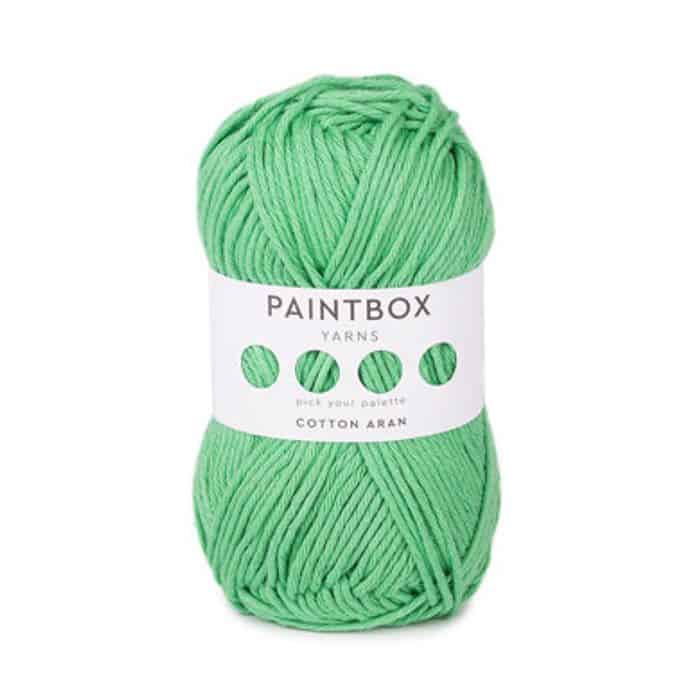 You won't be disappointed with this wide variety of rainbow colors. Knit clothes for kids, adults, and home textiles with this bold, machine-washable Aran weight yarn. Also comes in a dk weight.
How Does It Compare?
Care Instructions – Machine wash and dry flat
Made Of – 100% cotton
Yardage – 93yds (85m)
Weight – Aran
Skein Weight (Ball Size) – 1.8oz
Gauge – 4×4 Inches – 20 stitches, 24 rows
Suggested Needle – U.S. 7 (4.5mm)
Pros
Gorgeous range of bright colors
Soft to touch
You can spot mistakes effortlessly
Great for beginning knitters
Available in 5 and 10 ball value packs
Good looking stitch definition
Great for knits for scrubbies, dishcloths and dish towels.
Cons
May feel stiff when knitting or crocheting
Wool-Ease Yarn
A 4-ply worsted-weight yarn popular with knitters. The versatility and value of this wool blend are appreciated. It combines the warmth, softness of wool with acrylic's easy care.
An easy yarn to design with and suitable for every project. Try a shawl, mittens, wraps and hats.
How Does It Compare?
Care Instructions – Machine washable and tumble dry
Made Of – 80% Acrylic 20% Wool.
Yardage – 197yds (180m)
Weight – 4 Medium Worsted
Skein Weight – 3oz (85g)
Gauge – 4×4 Inches – 18 stitches x 24 rows
Suggested Needle Size – #8 (5mm)
Pros
Soft texture
Available in solids, glitter, multi colors, prints, and frosts
High quality
Doesn't pill
Versatile
Lovely drape
One of the best wool blends
Stitches show up well
Knots are rare
Cons
Which Is Best For You?
Feels Like Butta Yarn – Super soft, perfect for projects worn close to the skin
Lily Sugar's Cream Super Size Solid Yarn – Great for cotton projects
Caron Simply Soft – Affordable with various colors
Patons Classic Wool Yarn – Great for 100% wool projects
Baby Soft Yarn – Excellent for baby items and blankets
Red Heart Super Saver Yarn – Wonderful range of colors
Paintbox Yarns Cotton Aran – Bright colors and great for knitting dishcloths
Wool-Ease Yarn – Wool feel with the easy-care of acrylic
Comparable Products To Consider
A great beginner-friendly yarn for blankets is Bernat blanket yarn.
Q&A
What Is The Most Popular Brand Of Yarn?
Red Heart Yarn. They offer many affordable yarns of good quality in a fantastic range of colors. Available online and in craft stores.
Which Knitting Yarn Is Best For Beginners?
If you're a beginner, use medium worsted weight (#4). Choose light colors as they're easier to see when creating your stitches. It's easier to learn with wool. This thickness is comfortable to knit with.
How Do You Choose Yarn For Knitting?
It varies depending on the project you choose. Most knitting patterns have suggestions. Also, consider your budget. Something like cashmere yarn or alpaca yarn is more expensive.
What's The Best Yarn For Knitting?
Try Lion Brand's Wool-Ease. It has stretch from the wool and easy care of acrylic. Plus, it's affordable.
What Is The Best Yarn For Knitting That Doesn't Fuzz?
Anti-pill yarns have been developed by yarn companies, specially treated acrylic yarns. Plant fibers (cotton and bamboo) are less likely to pill.
If you love yarn and it pills, removing the fuzz from each item is worth it.
Hope this article helped. The best yarn for knitting depends on the project, but hopefully, you found one to suit. What are your favorite picks? Let me know in the comments.
Pin Now to Save for Later