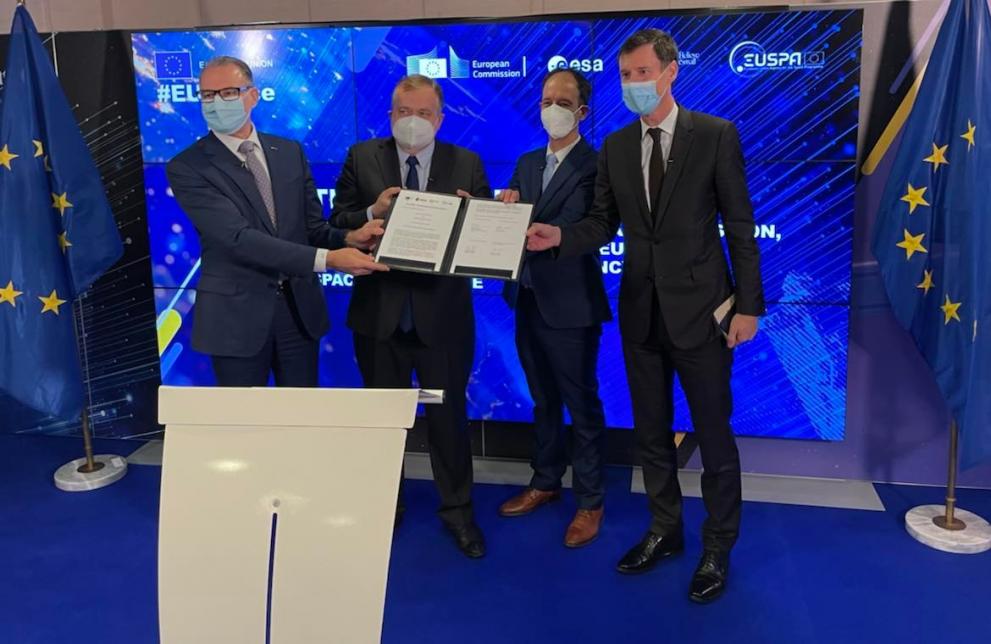 The idea is to is attract more venture capital funds to invest in European small and medium size companies involved in space technology or digital services using space data. The fund is said to have an investment capacity of at least €1 billion.
It was announced by the European Commissioner for Internal Market Thierry Breton, the Vice-President of the European Investment Bank Kris Peeters and Chief Executive of the European Investment Fund Alain Godard, pictured above signing a joint statement.
The intention – by improving access to investments and professional networks – is to "support entrepreneurship among space-related businesses in the EU". The initiative is designed to be tailored to the needs of companies in different growth stages from seed to mid-caps.
"Europe is not short of vibrant start-ups that have disruptive ideas and technologies," said Breton. "But many of our start-ups cannot get sizeable equity investment in the EU once they need to scale up. They have no choice but to turn to non-EU investors. This is a major loss for Europe. The Cassini Fund will be a game changer."

"It will be complemented by a debt instrument through the EIB, to make sure that New space companies get access to loans, in particular when they are not accessible from traditional sources."
It also supports competitions and mentoring to help speed product development, For example, the Cassini Hackathons and Cassini myEUspace Competition.
You can read more about the initiative here.
It was back in January 2021 that European Commissioner Breton announced the setting-up of the European Space Fund, dubbed Cassini to help boost space start-ups.