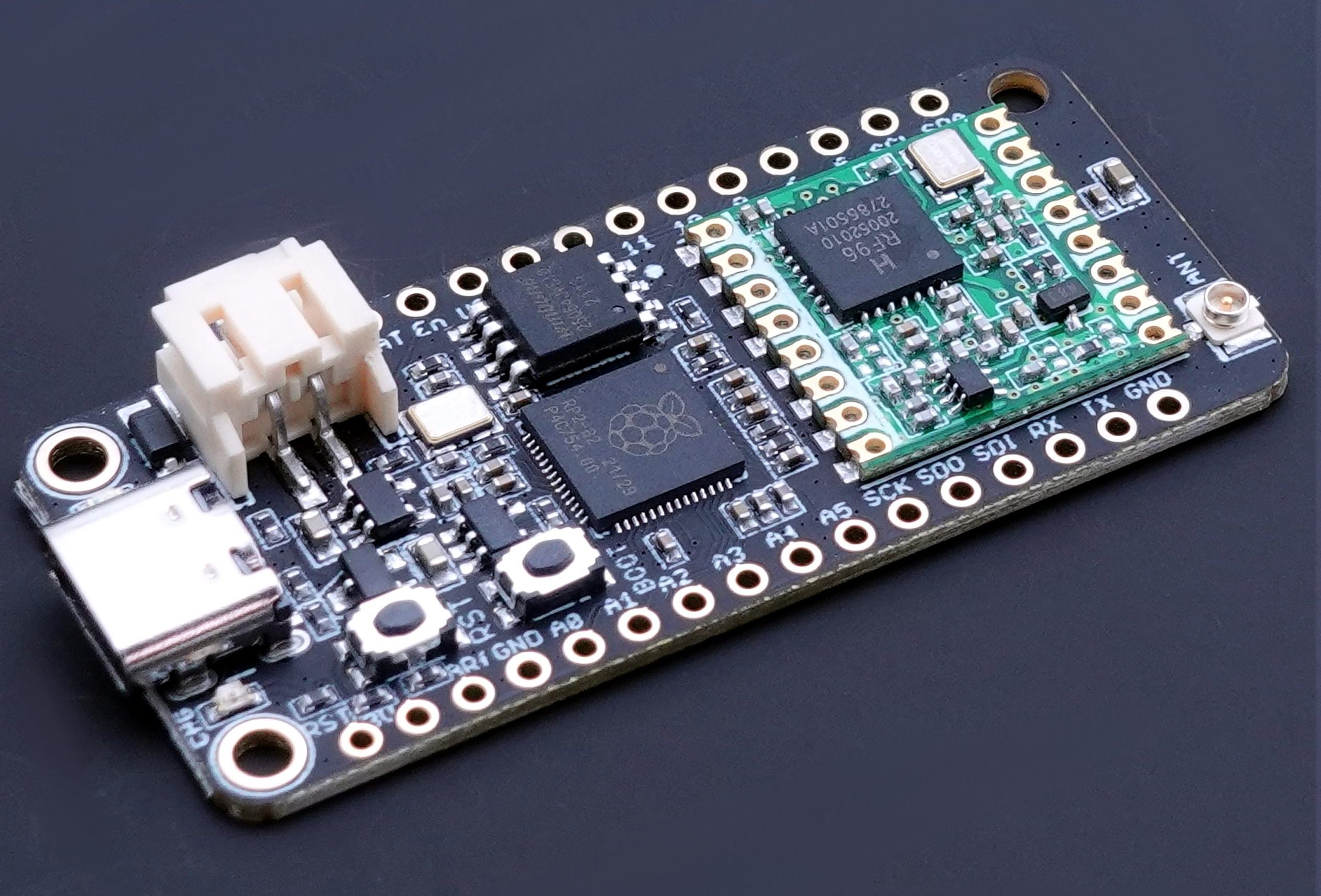 Released a few months earlier, the Challenger RP2040 Wi-Fi board comes in an Adafruit Feather form factor integrated with a Raspberry Pi RP2040 dual-core Arm Cortex-M0+ microcontroller with 8MB of flash and a Wi-Fi radio.
"This is a spin-off from our Challenger RP2040 Wi-Fi board, but we have replaced the Wi-Fi module with a low power LoRa radio module from Hope RF," says Invector Labs in their latest board design. "The transceiver features a LoRa long range modem that provides ultra-long range spread spectrum communication and high interference immunity whilst minimizing current consumption."
The Challenger RP2040 LoRa is almost a carbon copy of the layout and pinout, except for the LoRa transceiver module and a tiny U.FL connector for an external antenna. Physical boot and reset buttons, a connector and charge circuit for an optional battery, a USB Type-C connector for power and transmission, and sparsely populated connectors across both sides that match the Feather pinout are all still present.
Specifications of Challenger RP2040 LoRa
MCU – Raspberry Pi RP2040 dual-core Cortex-M0+ MCU at 133MHz with 264KB SRAM
Wireless module – RF RFM95W connected to RP2040 via SPI channel and some GPIOs
Power Supply: 5V via USB Type-C port

Features a 2-pin LiPo battery connector in addition to the LiPo charger circuit with 250mA charging current
The integrated LoRa module in the RFM95W transceiver offers the provision of a long-range spread spectrum communication and high interference immunity while consuming minimal current. Outperforming the classic modulation approach in terms of blocking and security, LoRa resolves the traditional design compromise involving range, interference immunity, and energy usage.
When it comes to software compatibility, the Challenger RP2040 LoRa follows the same software support as the RPi Pico due to the identical microcontroller integrated both the hardware– compliant with Arduino IDE, Circuitpython, Micropython.
Listed on the Invector Lab store, the product is currently out of stock, however, more information on the product can be found on the official website of ILabs.