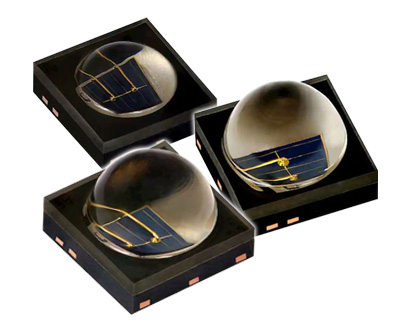 They are "designed with a 42mil chip for 1.5A dc operation, with  support for pulsed currents up to 5A", according to New Yorker Electronics, which is stocking the parts.
They come in two wavelengths and three viewing angles. The parts are:
VSMA1085400
860nm 925mW/sr ±40°
VSMA1085250
860nm peak 1,350mW/sr ±28°
VSMA1085600
860nm peak 490mW/sr ±60°
VSMA1094400
950nm peak 850mW/sr ±40°
VSMA1094250
950nm peak 1,250mW/sr ±28°
VSMA1094600
950nm peak 460mW/sr ±60°
Angles are to half intensity. The LEDs vary in height – across 1.8 to 2.9mm, according to New Yorker.
Inside each are two stacked die connected in series. Forward drop with 100μs pulses (the maximum allowable at 5A) is typically 3.1V at 1A and 3.9V at 5A.
At 1A, rise time is 10ns and fall time 15ns.
J-STD-020-rated floor life of 168h and ESD rating it up to 5kV according to ANSI / ESDA / JEDEC JS-001 said the distributor.
The Vishay VMSA was also designed with a low thermal resistance (6 K/W < RthJSP < 9 K/W) and an angle of half intensity at ± 40°.
Thermal resistance junction to solder point (by JESD 5) is 6 – 9K/W. Vishay notes: Thermal resistance has been measured with the part mounted on an ideal heatsink and the optical output power has been deducted from the total electrical power dissipation.
Applications are foreseen include driver and occupant monitoring, eye tracking and CCTV.