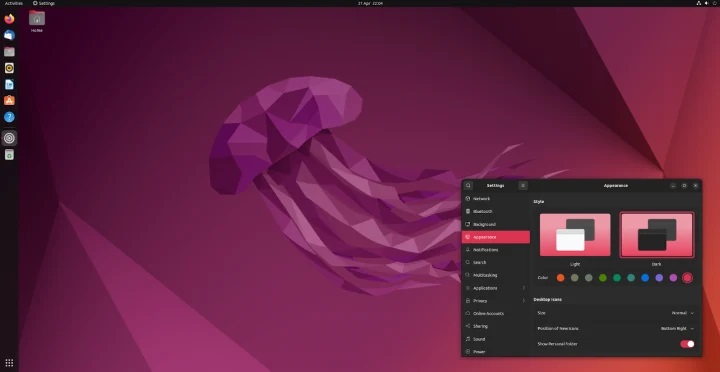 And it's not just the Raspberry Pi 4 that will run the desktop Linux, but the full Pi range (though I think it'd be best to stick to the latest Raspberry Pi 4).
It seems the latest release includes optimisations that can double the desktop frame rate for Intel and Raspberry Pi graphics drivers. (Our own Engineer-In-Wonderland has previously written about using a Pi for their own computing work, BTW.)
The support was made possible, apparently, via the GNOME (GNU Network Object Model Environment) desktop environment, with version 42 featuring improvements in handling "power profiles and streamlined workspace transitions".
"With Ubuntu 22.04 LTS, the entire recent Raspberry Pi device portfolio is supported for the very first time, from the new Raspberry Pi Zero 2W to the Raspberry Pi 4", Eben Upton, CEO of Raspberry Pi Trading, told Canonical.

"It's great to see a certified Ubuntu Desktop release that includes support for the 2GB Raspberry Pi 4, giving developers all over the world access to the most affordable development desktop environment."
Just to be precise, Ubuntu is a Linux distro, based on Debbian, which is developed by Canonical. You can read more on the company's blog.
And, caveat emptor, this isn't really for the faint hearted Pi user, who should certainly stay with the excellent Raspberry Pi OS (the operating system formerly known as Raspbian).
Ubuntu Hardy Heron
There was a time – long ago, now, and far away – when I tracked Ubuntu's progress for the 'Digital Life' category of the ElectroRamblings blog. A simple time of Intrepid Ibex and Hardy Heron, as they endearingly worked their way though the animal world, release by release…
Making the most of Dell offering a Linux PC, I really liked having a non-Windows desktop. Easy to use, nice and stable. Open source and the fruit of community labours. What's not to like?
In fact, never getting Compiz Fusion to work, a whizzy windows manager, is my only regret. Apart, also, from the fact the World isn't as it was in 2009…. How do we solve that?
[Via The Register]