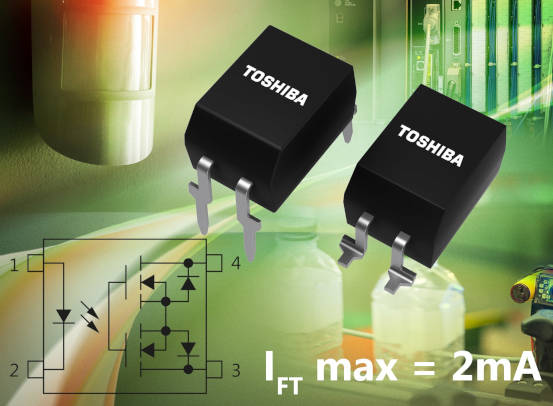 The input current "reduces energy consumption by approximately 33% when compared to existing Toshiba products such as the TLP240x series", according to the company.
There are two parts:
TLP223GA
400Vmax 120mA 17Ω output
turn-on 1ms max (50% of TLP240GA)
TLP223J
600Vmax 90mA 30Ω output
turn-on 0.5ms max (75% of TLP240J)
Pulsed on current it triple the continuous value for both.
For outdoor installation, operation is over -40 to +110°C.
Packaging is 4pin DIP, with leaded and surface-mount options. Isolation is 5kVrms and, for use in equipment requiring reinforced isolation, creepage and clearance distances are 7 or 8mm depending on package type – and maybe reduced by PCB design.
Applications are foreseen in smart meters, passive infra-red (PIR) security sensors and building automation. "They are also intended for use in industrial applications such as PLCs [programmable logic controllers], I/O interfaces and many types of sensors," said Toshiba.
Product pages: