What I'm about to share is going to be more popular than guest posting or utilising private blog networks to improve search engine rankings in 2018.
It's not a tactic I created myself. Nor is it one I've only just discovered.
I've followed its increasing usage throughout 2017, and now it's finally time to write about it.
While there are certainly ways to employ the tactic legitimately, you can probably guess from my headline that it's being used in ways I can only describe as unethical.
And it's working incredibly well.
The reason I didn't cover this sooner is because I fear that shining attention on the ways it's being used will increase its popularity.
I've been involved in SEO for 12 years now, and in that time I've seen countless link building tactics go from a point where they're used with good intentions – such as guest posting on a site because you really want to serve their audience – to being utilised purely for self-gain, like sending thousands of bloggers generic articles to publish (with your links embedded).
What I'm about to share has already moved over from honest to unethical (from whitehat to greyhat, in SEO speak), and automation is undoubtedly just around the corner.
I'm writing this article to help people understand why they're now receiving emails full of praise, more interview requests than ever before, and congratulations for winning awards, rather than asking them to publish pre-written content.
This tactic is still on the sidelines for now, enough so that even seasoned SEO's won't have seen it in action.
As sites just a few months old are using it to get mentioned by big brands, I can only expect its usage to greatly increase.
The kind of sites webmasters could only dream of getting links from are now giving them out with relative ease, and there are millions of potential targets ready to do the same.
If I were selling an SEO product with these claims, I would be called a fraud.
I have nothing to sell, other than a warning for what is about to come, and a personal plea to Google to curb this before it really takes off.
Sites I've found that are suddenly dominating Google right now are following a very simple tactic: They write articles full of praise about other businesses – mentioning them with links that don't give 'credit' – so that those businesses reciprocate with links that do give credit in the eyes of search engines.
If you've just been waiting for the 'secret' so you can skim the rest of this post, there it is in bold.
If you're involved in the marketing or promotion of websites in any way, I hope that you take the time to read this, because you or your clients could be on the receiving end of what I dub #fakelinks very soon.
Here's the Future of Link Building in Action
I've seen dating sites, financial advisers, law blogs and eCommerce stores in the wedding niche employ this tactic, among others
The websites I've found tend to write over-the-top, positive reviews about companies which are often unrelated to the business they're in.
The targets of this strategy are websites which maintain active "In the press" or "Media" pages. As there are millions of websites which fit this description, opportunists have a large market to penetrate.
Before I go into detail on how the naïvety of others is being abused to improve search engine rankings, I want to start with a typical example of how media and press pages currently work.
CryptoniteNXT – who I have no affiliation with – are a new startup in the world of cyber defense, specifically helping companies fight against insider threats and 'ransomware'.
Because of the interesting work they're doing, news websites frequently write about them.
You can see an example of this from a recent story on DCInno, the Washington, D.C. arm of AmericanInno.
A company from the state they cover are doing something interesting, so they feature them.
Any time someone writes about CryptoniteNxt they update their media page and link back to the news, as shown below.
Being a cyber defense firm, they aren't expecting to go viral on social media or get noticed for their clever Facebook ads.
Instead, they want to be talked about by relevant websites who document their story and progress.
Millions of businesses around the world monitor the press they receive and cover it on their site.
What's increasingly starting to happen is websites which would typically never write profiles on other companies – such as those which sell their own anti-virus software, for example – are now singing the praises of others, all in the name of links.
So why write an article about this?
One company gets free press, and the other gets their coverage linked to.
What's the problem?
If you've been involved in SEO for a while, you've probably figured out that the parties who have learned how to pick up these 'in the press' links aren't doing so with the best of intentions.
I've personally found hundreds of webmasters writing about companies while linking to them with nofollowed or redirected links (such as oursite.com/go/anothersite.com).
For those of you who are unfamiliar with the nofollow attribute, it's essentially a way of telling search engines like Google and Bing, "I want this link to take people to another website, but please don't give them any credit when it comes to rankings."
In other words, I could write a glowing review about IBM on my gadget site and put it on an area of my website which no human will likely ever find – or mention them via a nofollowed link – and then reach out to IBM to let them known about the review.
I give IBM a link which essentially has no value and in return, IBM give me a link on their press page which helps catapult my rankings higher in search results.
IBM may sound like a far-fetched example, but this is the kind of huge company that are "falling" for this tactic right now.
"They approached us to write an interview about our company's history and we agreed" said the support staff of one software company who have found themselves the target of such an approach.
Their homepage is frequently updated to link to the latest news that features them.
Getting a homepage link from an official business website, which itself has lots of links pointing to it, is the dream of website owners who rely on search traffic.
"I've been subjected to one of those myself; great piece of ego-bait" recalls Barry Adams, founder of SEO agency Polemic Digital.
"It's actually a pretty good tactic if you ask me. Yes those press pieces are specifically crafted to generate links from high value websites, but then a lot of what SEO's make their clients put out there is created for the specific purpose of attaining backlinks."
He continued, "Is it moral? Well, that depends on your perspective. Is it effective? Oh yes."
In some scenarios I've came across, brands with multiple websites have each written a positive review about the same company; all receiving a link from the same press page of a brand you'd be familiar with.
"To confirm – in a strictly technical sense, the links are indeed blocked from Google seeing them. I just ran a crawl on one of the pages; the link does not get picked up" says Dan Shure, the founder of Evolving SEO, after sharing one such scenario with him in private.
Why websites link out with nofollowed or redirected links likely stems back to the concept of sculpting PageRank, a metric Google use – in its most basic form – to determine the worth of a website, and thus help to position it accurately in search results.
PageRank was developed by Google founders Larry Page and Sergey Brin in 1996. It's a complex topic, but those taking part in sculpting it likely believe their site retains a higher 'value' if they don't link out, or they simply wish to avoid the appearance of being involved in link exchanges.
The latter is something Google have warned against since 2011 in their link schemes documentation.
Without working for Google, and even then having intimate access to their algorithm, it's impossible to say whether the tactic makes sense, but few webmasters would turn down followed links from a brand like IBM.
I've decided not to give any specific examples as I fear – as often seems to be the case – that Google would simply target individual webmasters on new sites and allow established brands to benefit from doing the same thing.
While I don't agree with what people are doing, I can't deny it's smart, and highlighting one or two examples isn't going to curb what's happening.
If you're a fellow marketer and would like to verify my claims so I don't have to 'out' anybody, an example search query you can start with is "Inurl:in-the-press" (without the quotes).
You can also try changing the timeframe of results (Tools > Past Week) to only return such pages which are actively updated.
Start going through the results and you'll find the same companies being targeted over and over again, giving out links that aren't reciprocated in the press they receive.
Note: To further protect those who I don't agree with but don't feel I should target, that example query is not one I used to find my own instances of this happening, but it's a good starting point.
Brideside: A Real-World Example Of This Happening
The example I'm about to share with you is not something I believe happened unnaturally so there should be no harm in covering it.
Brideside, an eCommerce store primarily selling bride and bridesmaid dresses, has been mentioned in Racked, Town & Country Magazine, The Huffington Post and other places you would likely recognise.
As you would expect, they've proudly added these links to their In The Press page, shown below.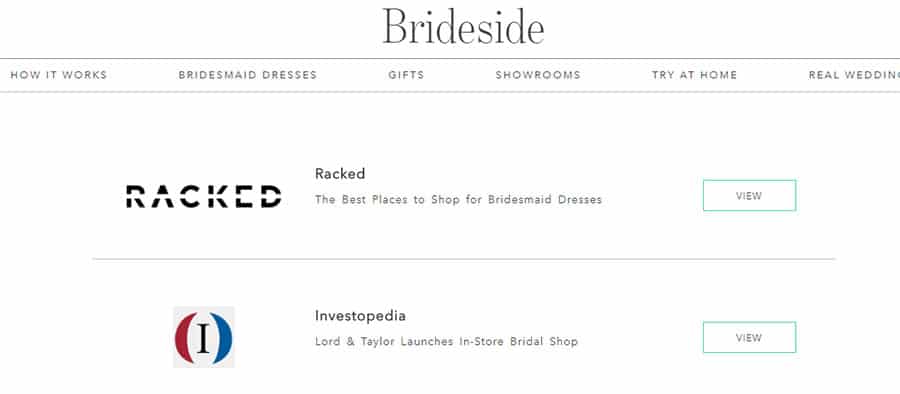 There are currently 15 links to other websites on this page.
Here's how those other websites cover them.
Racked: Normal, followed backlink
Investopedia:

Mentioned twice without a link

Marketwatch:

Mentioned twice without a link

WWD:

Write Brideside.com twice without clickable links

WWD #2:

Mentioned three times without a link

Observer: Normal, followed backlink
Chicago Business: Normal, followed backlink
Instyle: Normal, followed backlink
Brides.com: Normal, followed backlink
Town & Country Mag: Normal, followed backlink
The Knot:

Nofollowed backlink

The Huffington Post:

Link / mention removed

Refinery 29:

Nofollowed backlink

Racked #2: Normal, followed backlink
Out of the 15 different sources they link to, only 7 of them actually link back with a followed link.
I don't think these companies specifically reached out to Brideside saying, "Hey, we mentioned you, can we get a link please?", hence my willingness to share it here.
That said, it's not hard to find groups of similar sites targeting the same press pages over and over again to pick up easy links.
The interview angle that's increasingly popular is smart, if not incredibly sneaky, because it gives you a much higher chance of receiving a link from whoever you interview.
Instead of just writing good things about a company and hoping they'll feature you, if they've already taken the time to answer your questions, they're invested, and as such pose a bigger likelihood in linking to said interview.
Of course, these aren't normal interviews, and in my opinion they're not being done for the right reasons, though not everyone shares my concern.
"I think that this is a fantastic link building strategy" stated Marie Haynes, of Marie Haynes Consulting.
Marie believes the onus is on those linking from press pages, rather than to them "…if they include me on their press page, then they've made an editorial choice to do so."
"I suppose that to be completely fair, it might be a good idea to link out with a followed link. But, obviously [big brand] has no problem with the way things are with nofollowed links, so in this case I think that's totally fine."
Wherever this tactic currently lies on your moral compass, I hope you're starting to get a sense of how prevalent I think it's about to become.
Shopify, And Other Big Brands You Know, Are 'In On It' Too
I could have called this tactic #fakepress and it would have likely made for an interesting story, but this isn't just about picking up links by covering companies and not giving them links in return.
It's about not giving links out at all, but happily dominating search results and benefiting from all of the people who link to you.
12 years since I got into search, links from one site to another are still Google's best way of figuring out where one site deserves to rank in their search results.
Just like Google's algorithm resulted in webmasters using dashes in URL's rather than underscores, I argue it's unfairly benefiting large websites who don't want to give any 'link credit' to other sites, but will happily receive it.
I can't be too harsh on Google here – some changes, like encouraging webmasters to adopt HTTPS, have no doubt made the web a better place – but without action they're opening the door for this tactic to prevail.
Shopify, the software platform that powers over 500,000 eCommerce stores, succeeds when their customers succeed.
The longer someone keeps their store online – likely because they're making sales – the more money Shopify makes from their monthly subscription fee.
While store owners on their platform generate revenue thanks to traffic from sources like Facebook, Twitter and Pinterest, search is undoubtedly a huge part of the sales strategy for many sites on the platform.
Though there are said to be well over 200 Google ranking factors, it's generally agreed by SEO experts that links from one site to another are paramount in improving a sites standing in search results.
"When Google sees the attribute (rel="nofollow") on hyperlinks, those links won't get any credit when we rank websites in our search results" stated the Official Google Blog in 2005 when nofollow was first introduced.
That's why it would be strange, when so many of Shopify's customers need links without this attribute to rank, that Shopify.com would only link out to other websites using this attribute.
It would be the ultimate irony, but it's exactly what's happening.
At this moment of writing, Shopify feature three customer success stories on their homepage.
So that I'm being objective – and not trying to show you data from their customers who rely on search for almost all traffic – let's look at the stats for the customers they highlight.
Tattly receive an estimated 31.17% of traffic from search engines
BIKO Jewlery receive an estimated 57.08% of traffic from search engines
Mindzai Toys receive an estimated 53.92% of traffic from search engines
I'm willing to bet that if we looked at every single Shopify store that has made at least one sale, over 50% of their averaged traffic would be from search.
Shopify and their customers benefit massively from people talking about them and linking to them.
Shopify themselves don't think they should give credit to anyone they link out to.
Here's the second most recent post on the Shopify blog at this moment of writing.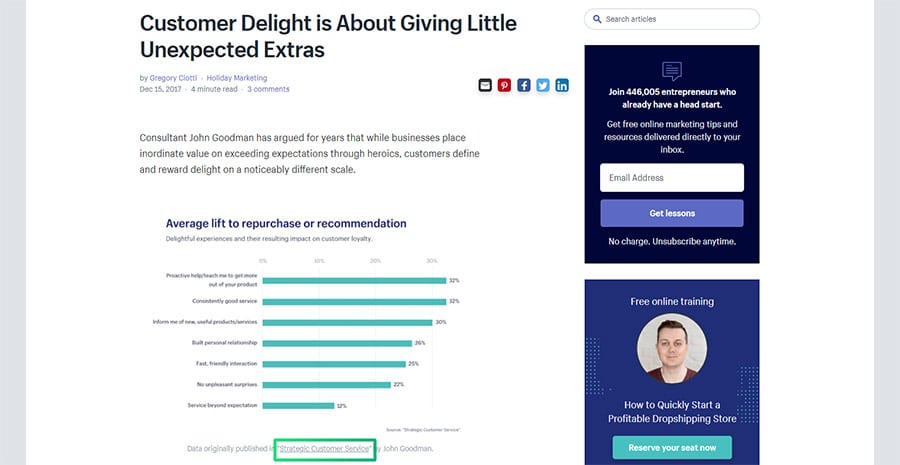 That green box encloses a link to Salesforce.com with the nofollow attribute, just like every other external link on the Shopify blog.
Correction: The link below that, rather than the one highlighted, takes you to the Salesforce blog. The chart itself was created uniquely by the author, based on data from a book referenced in the highlighted link.
I'll play devil's advocate for a second and say that Shopify don't know who is contributing to their blog so they just do this to be safe.
I can only play it for a second.
Shopify made $590m in 2017.
It's hard to believe they can't hire one person to make sure their outside contributors aren't selling links to people who want to get mentioned on the site.
If they can't hire someone to vet contributors for their official blog, then don't have contributors.
You may think I'm getting carried away here, but consider the following for a second.
If every site who linked to Shopify customers also used the nofollow attribute, they would potentially lose up to 50% of their revenue next year.
If Shopify don't want to give out 'link juice', why should they benefit from people who do?
If Sites That NoFollow Every Outbound Link Thrive in Google, #FakeLinks As a Tactic Will Thrive As Well
Shopify are far from alone in no-following every outbound link on their site.
Entrepreneur.com, Inc.com, Forbes.com, The Huffington Post (sorry, no links) and many others have gotten in on the game as well.
Not one of these sites has been treated like links pointing to them are all nofollowed.
I argue they should be.
Unpopular opinion: Sites that nofollow every outbound link (Forbes, Entrepreneur, Huffington Post contributors, etc.) don't deserve to rank in Google. If you can't monitor the people writing for your site, don't have them in the first place.

— Glen Allsopp (@ViperChill) November 29, 2017
Judging from the number of likes and retweets I received, it seems my unpopular opinion isn't so unpopular.
So what's the problem here?
Am I just a webmaster whining about how I can no longer get a link from Shopify.com that could help increase the 'value' of my site in the eyes of Google?
I can't deny it would be nice, but no, not at all.
In 2017, every webmaster I know faced an absolute barrage of emails in their inbox from people looking to guest post on their site (without stating they accept guest posts, and most commonly when they don't accept them).
For many like myself, it has made our inboxes a bit of a nightmare.
I receive up to three requests per day from people looking to guest post on my website. 99% of topics they suggest have nothing to do with marketing, which is what the site they offer to guest post covers.
Here's an example from last month.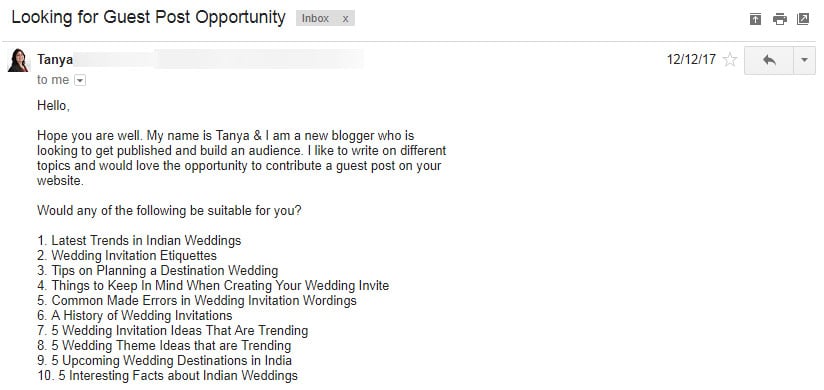 This is not a carefully selected example to make a point. Almost every request I receive is as unrelated to the content I write as this one.
If something works when it comes to picking up links that help you rank, webmasters will take advantage of it.
If Google continue to reward websites which nofollow every single outbound link, the amount of requests for interviews and press mentions – where you only get #fakelinks in return – are going to increase tenfold.
If you're a fellow blogger and thought guest posting outreach was bad, 2018 has another surprise for you.
Countless businesses are going to find themselves linking out to positive press which was only written for them to link out to.
Countless more will spend hours answering interviews that nobody will ever see, just so they can be asked to talk about those interviews once they're live.
This will undoubtedly make the situation where just 16 companies are dominating the world's search results far worse.
Big brands will continue to pick up links because they're already established, while fewer opportunities will exist to pick up links from big brands.
IDG's Network World are the Undisputed Masters of This
Popular IT brand Network World, owned by the billion-dollar media company IDG, are involved in some of the smartest link building of this nature.
Each week they feature the best new products in their space.
And every single time, the people they feature link back to them.
As you can probably guess, every link Network World give out on their 30 picture slideshows are nofollowed.

They have over 513 of these weekly pages which pick up links every time they're published.
For those unfamiliar with the Ahrefs platform, RD in the screenshot below stands for 'Referring Domains' which is essentially the number of unique websites which link to that page.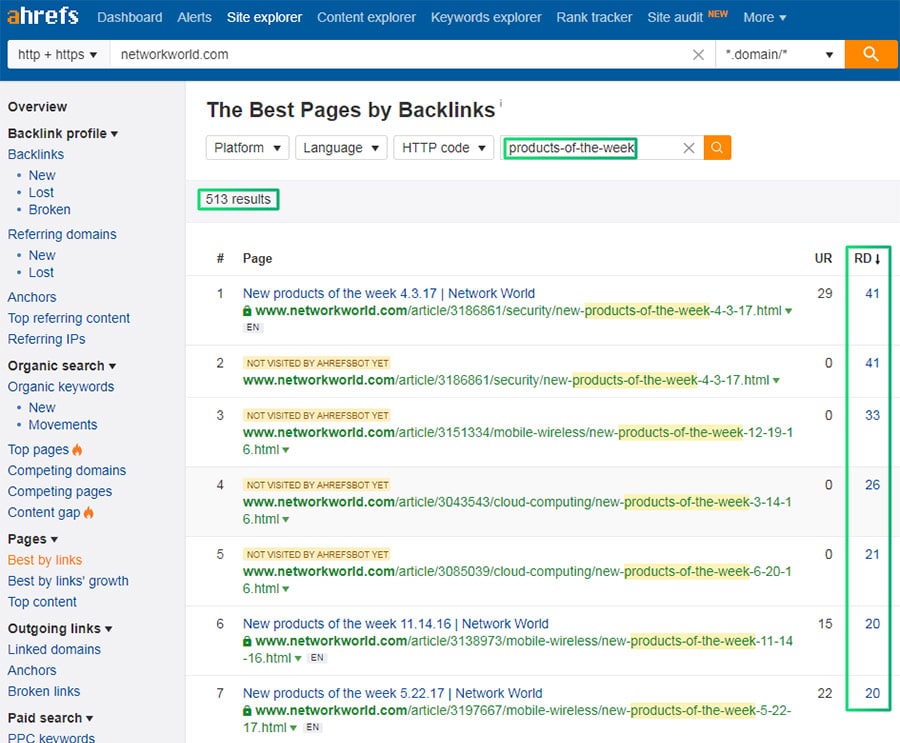 Because Network World are a big brand, businesses are proud to share the coverage they receive.
Here's iboss.com talking about their slideshow mention:

And quest.com doing the same:

Often the links they receive in return are the absolute best you can get: Homepage links from the official site of real brands.
For the sake of argument, let's just say Network World have been doing this forever and have no idea it's helping them pick up so many new links each week.
Why would a roundup of editorially chosen "intriguing new products" be websites they couldn't vouch for?
Why do those links have to be nofollowed? It makes no sense.
Sadly, it's a trend that's only increasing.
Business.com No-Followed Every OutBound Link
SimilarWeb estimates that Business.com receives 70% of their traffic from search, meaning it's incredibly valuable to them.

Like many other entrepreneurial-focused brands before them such as Inc.com and Forbes.com, they nofollowed all outbound links towards the end of 2015.
Their traffic doesn't seem to have faltered because of it though.
Bloomberg Too No-Followed Outbound Links (Even for People They Interview)
Here's how their search traffic numbers are doing right now.

Even if they reach out to someone to interview them for a story, they nofollow the link back to that person's personal website or business.
USAToday Also Quote People and Give Them Nofollowed Links
Like Bloomberg, USAToday use sources hundreds of times per day to add content to their stories. And like Bloomberg again, they also add the nofollow attribute to those links.
As you can tell with the theme of my story here, that certainly hasn't hurt them.

The strange thing, or not so strange anymore, is that they write entire articles about other businesses and still keep the attribute in place.
About.com's The Balance Awards the 'Best Blogs' With Nofollowed Links
Ranking number one in Google for 'best construction blogs' and other related terms, you would think that About.com's latest brand, The Balance, would give a little love to the winners of awards they created themselves.
After all, they're personally recommending you follow these sites.
You can see where this is going…

The second result for best construction blogs is from Capterra, which is where The Balance's author also works.
Capterra's list of the top 23 construction sites gives out followed links, but that only earns them a second place ranking.
BizFluent Doesn't Think Sources Deserve Credit
If it's your first time checking out the BizFluent website (no link from me) you could easily think they're just a site put together to get traffic from Facebook.
Reaching over 1.5 million visitors per month, a surprising 91% of them find the site via Google.

The 'top stories' on their homepage right now as I write this are:
Ethical Issues of a Clothing Store
How to Sell Airplane Parts
How to Make a Map for a Brochure
Every single article feels like it was outsourced by someone who doesn't really care about the topic. The last article on that list is literally 371 words long.
And every site they reference picks up a nofollowed link.
Newsweek Stopped Giving Followed Links to the New York Times
And every other news site that could be thought of as a competitor.
While I won't claim that their search traffic has increased because of these changes, they certainly haven't decreased in spite of them.

Unlike other sites, Newsweek didn't nofollow all external links from the past, but are nofollowing all links going forward.
In August of 2015, Greatist Nofollowed All of Their External Links
Greatist is a bit like the early days of Buzzfeed in terms of content, but focused primarily on health and fitness, and with a little more legitimacy.
After raising $4.5m to grow the brand back in January of 2016, their search traffic has almost doubled since then.

In August of 2015, a few months before receiving the funding, every site they reference stopped receiving followed links.
I could go on and on here, but hopefully you're starting to get the idea.
Some other big names you would likely recognise who have followed suit include:
Jaguar.co.uk
Asbestos.com
Finance.Yahoo.com
TheNextWeb.com
Kiplinger.com
Medium.com
Wikihow.com
Forbes.com
Inc.com
Entrepreneur.com
PCWorld.com
MacWorld.com
PCworld and MacWorld, like Network World profiled earlier, are owned by the same company, IDG.
It seems like they made a company-wide decision to nofollow links from most of their network.
While it's common for sites to nofollow some links – I keep the default WordPress settings on comments here – not giving credit to any link has started to become commonplace in recent years, and people are taking advantage of that.
The Biggest Flaw in My Argument, Which Google Can Easily Clarify
Marketers around the world right now are taking advantage of in the media and press opportunities because they believe they work (and from my data, it certainly appears that they do).
You keep the link juice of your own website, and don't pass it around to others. This is essentially a form of pagerank sculpting, which has been written about by Google engineers as far back as 2009.
If you see big names you recognise like USAToday or Business.com or Newsweek nofollowing links and having their search traffic grow like crazy (admittedly, this is more likely correlation than causation) then why would you not do the same?
Why would you not nofollow every outbound link to 'be safe' but make sure the links you pick up don't carry that attribute?
With all I've said, I can't deny there is a big potential flaw in my argument.
I have to entertain the possibility that Google are already treating sites that do this in a negative manner.
It's highly unlikely (Wikipedia still ranks for everything) – especially with prominent Googlers now recommending you nofollow links to every guest author on your site – but for the sake of argument, let's say it is the case.
Google need to update their documentation.
On their official webmaster guidelines regarding the nofollow attribute, Google say you may want to use it when:
You're linking to sites or content you're not sure about
You're selling paid links
You want to prioritise crawling (such as adding the nofollow attribute to 'sign in' links)
Their advice is clear: If you're not sure about a link or don't want to be penalised for selling links, add the nofollow attribute to those links.
Yet, here's what some of the most trafficked websites in the world are using the nofollow attribute for:
Writers they happily take content from to publish on their site
People they interview for their official podcasts
Charts and graphics from other sites they write entire articles around
Experts they've quoted
Testimonials from paying customers
Sources they reference and take statistics from
Products and services they recommend
The winners of awards they themselves put together
If the future of link building doesn't revolve around #fakelinks, I argue Google must state – and change their algorithm to reflect – that if you don't give credit to every outbound link on your site, it may appear unnatural and hurt your rankings in their search engine.
I'll continue to build sites that focus on search traffic whether Google make an announcement or not, but I should repeat my fear that even fewer companies will dominate search results, and even more unrelated emails will arrive in my inbox this year, looking for links to irrelevant praise.
Just like they've denounced selling links, utilising private blog networks, guest posting, embedding widget links, link building with contests and more, I think they can stop this practice from becoming mainstream before it exits the shadows.
Otherwise, here's the future of link building in a nutshell: Websites, products and services are going to get more unnatural praise than ever before – via links which search engines either don't credit or can't see – all in the hope that said website, product or service will talk about the good news they've received.
If Dale Carnegie was right, and the sweetest sound to any person is their own name, then the sweetest sound to any business online is positive press about them on another site.
If nothing changes, people are going to spend time on interviews nobody ever reads, share awards that were only created for them to share, and add links from their press page to those who only wrote the praise for that to happen.
The only way to stop it is if sites that nofollow every external link don't get the credit for every link pointing to them.
Without this change, expect the future of link building to consist of a lot of fake links in order to get a lot of real ones in return.
Update: One hour before I went live with this article, I was able to ask Googler John Mueller what he thinks of sites which nofollow every outbound link for an upcoming webmaster hangout (live Google video chat).
Around 30 minutes after this article went live, John was able to answer my question.
Transcribed by Glenn Gabe, John said,
We won't penalize a site for nofollowing all links. They can choose what they want to do. Some might nofollow all links, others might selectively nofollow. If sneaky links show up, it's understandable they would [be] nofollow. Google's algos just need to deal with this. It's not a new situation. But it definitely makes it harder for those trying to gain natural links as contributors or columnists… But, it has been used to game PageRank. Tough situation.
Emphasis my own.
Though I'm impressed a senior member of Google's search team can give any kind of response, I certainly wouldn't hold them to this quote. It was given on video, live, and answered without being able to read this article first.
Still, the feedback is interesting, and perhaps shows this is already something Google are thinking about.
Much appreciated, John and Glenn.
Update 2: I've modified the article slightly to make it more concise. I think this is an important topic, but if I were to go back in time, I would have swapped the order of the nofollow and #fakelink sections. It's unlikely I'll revisit this subject, but wish my coverage had resulted in more discussion on what the future looks like if far more sites nofollow all external links.
Would content marketing be as relevant? Which ranking signals could we look for instead of followed links? Would it make Google's own job harder and encourage them to take action?
If anyone covers such an angle, please feel free to email me or post it in the comments below, as I would love to read it.
[dot_recommends]