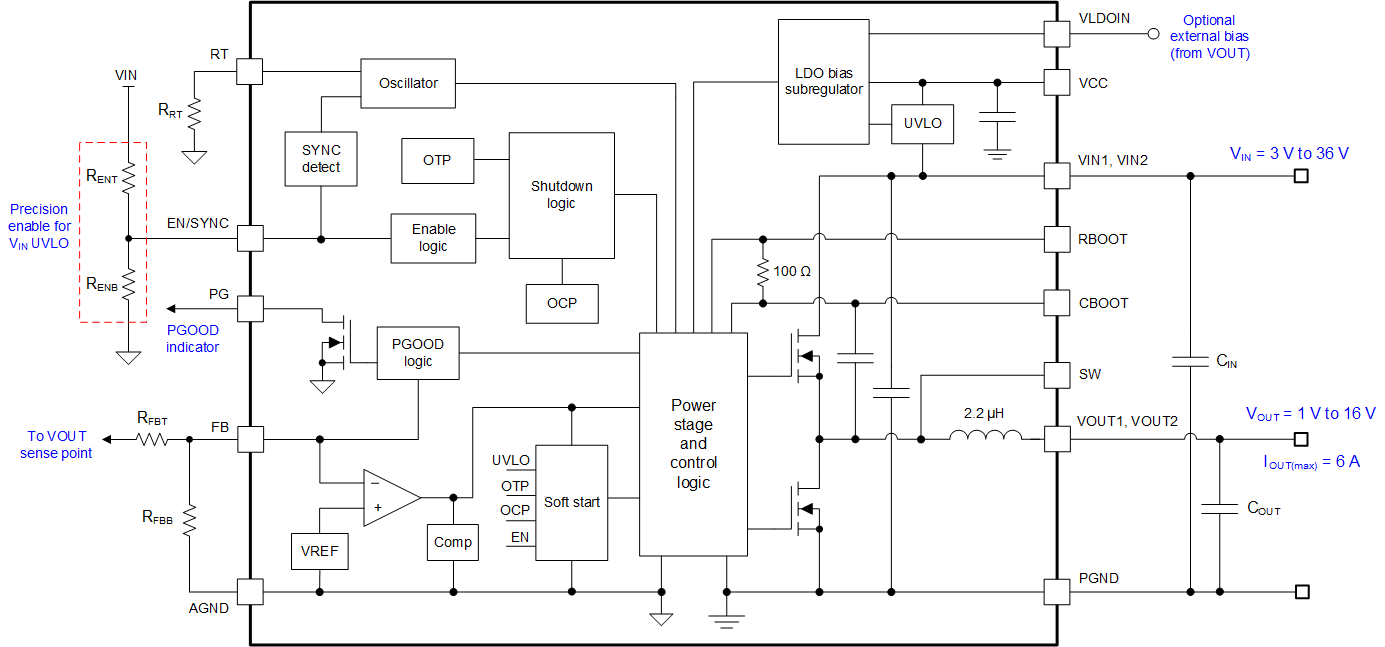 Texas Instruments' module is a highly-integrated 36 V DC/DC solution that comes in an enhanced HotRod™ QFN package
Texas Instruments' TPSM63606 is a highly integrated 6 A, DC/DC synchronous buck power module that combines power MOSFETs, a shielded inductor, and passives in an enhanced HotRod QFN package. The module has pins for VIN and VOUT that are located at the corners of the package for optimized input and output capacitor layout placement. The four larger thermal pads beneath the module enable a simple layout and easy handling in manufacturing. With an output voltage range of 1 V to 16 V, the TPSM63606 is designed to quickly and easily implement a low-EMI design in a small PCB footprint. The total solution requires as few as four external components and eliminates the magnetics and compensation part selection from the design process.
Although designed for small size and simplicity in space-constrained applications, the TPSM63606 module offers many features for robust performance including precision enable with hysteresis for adjustable input voltage UVLO, resistor-programmable switch node slew rate, and a spread-spectrum option for improved EMI. The integrated VCC, bootstrap, and input capacitors provide increased reliability and higher density, constant switching frequency over the full load current range, and a PGOOD indicator for sequencing, fault protection, and output voltage monitoring.
Features
Functional safety-capable: documentation available to aid functional safety system design
Versatile 36 VIN, 6 AOUT synchronous buck module:

Integrated MOSFETs, an inductor, and a controller
Adjustable output voltage range: 1 V to 16 V
Package: 5.0 mm x 5.5 mm x 4 mm over-molded QFN
Junction temperature range: -40°C to +125°C
Adjustable frequency range: 200 kHz to 2.2 MHz
Negative output voltage capability

Ultra-high efficiency across the full load range:

Peak efficiency: 95%+
External bias option for improved efficiency
Shutdown quiescent current: 0.6 µA (typ.)

Ultra-low conducted and radiated EMI signatures:

Low-noise package with dual input paths and integrated capacitors reduces switch ringing
Spread-spectrum modulation (S-suffix)
Resistor-adjustable switch-node slew rate
Meets CISPR 11 and 32 Class B emissions

Suitable for scalable power supplies:

Pin-compatible with the TPSM63604 (36 V, 4 A)

Inherent protection features for robust design:

Precision enable input and open-drain PGOOD indicator for sequencing, control, and VIN UVLO
Overcurrent and thermal shutdown protection
more information: https://www.ti.com/product/TPSM63606