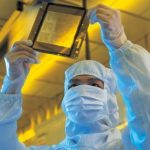 The capex target is at least $10 billion more than kast year from last year and  43% higher than Intel's $25 billion to $28 billion.
The company had December sales of $6 billion – 16% y-o-y increase.
It targets gross margin of at least 53%.
The chip shortage has encouraged customers to pre-pay for supplies and TSMC took in $6.7 billion in pre-payments last year.
The company has $12 billion in cash.
.